---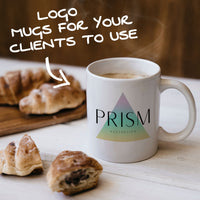 Aesthetics Clinic Client Mugs
Elevate your client experience

when you offer them a drink at your clinic in a branded mug! 

Offering a drink in a mug that features your clinic's logo is the ultimate statement of your commitment to detail and leaves a lasting impression they will not forget.

It's a simple way to underscore your clinic's unique identity and offer a gentle nod to top-notch service. They are also great to use in social media photography to show your aesthetics clinic stands head and shoulders above the rest in the industry! 

HOW TO ORDER WITH YOUR OWN LOGO: Simply add your "Logo Design Code" on the checkout page. If you don't have a design code, click here to get yours.

For further information please use the tabs above to read our FAQ or click here.
The design is printed on both sides of the mug.


100% Dishwasher & Microwave Safe

11oz Capacity

Made in the UK
Did you know? We also offer mugs that not only feature your logo but are also personalised to each team member at your clinic! It's the small details that customers remember and show you stand out from your competitors. Click below to check them out.
For contact information as well as the answers to common questions, please press here.